Exclusive Cruise
The best of British Isles PLUS Cornwall with Zoe Bromley-Fox
15 Days
From £3,569
In association with TS Tours
Discover some of Britain's finest islands including the Scilly Isles, Hebrides and the Isle of Man on this wonderful full-board cruise on the newly-refurbished MS Maud - plus enjoy a special day in Fowey with former VTA excursions manager, Zoe Bromley-Fox
On this ultimate staycation, you'll cruise around the UK's coastline on a 15-day round-trip from Dover to one of the most northerly regions of Scotland. You will visit some of our most interesting offshore islands, including fascinating Rathlin Island, home to Northern Ireland's largest seabird colony, and St Kilda, with its breathtaking cliffs.

In Stornoway, on the Isle of Lewis (part of the Hebrides), you'll discover where Harris tweed is woven and you'll visit Islay, famous for its whisky distilleries. You'll explore the Viking and Celtic heritage of the Isle of Man in Douglas, before you visit Waterford, the home of crystal, and the oldest city in Ireland. Also on your itinerary are the unspoilt Isles of Scilly, an enchanting archipelago, and the attractive Cornish town of Fowey, where you will join both Zoe Bromley-Fox, formerly of VTA, and a Blue Badge guide, for a very special excursion. It will include a scenic drive through Du Maurier country, a visit to the former capital of Cornwall, Lostwithiel - an antique collector's paradise, the remarkable Restormel Castle, a visit to a Cornish gin distillery, and a Cornish lunch. Your final stop will be the Isle of Portland along the dramatic Jurassic Coast.

Your home for this wonderful trip will be the biodiesel-powered MS Maud, which has been newly-refurbished, where you can enjoy the spectacular views from the outdoor observation deck, insightful talks, relax with a drink in the Explorer lounge and bar, or enjoy the wonderful food for which Hurtigruten is renowned.
To read more about this trip: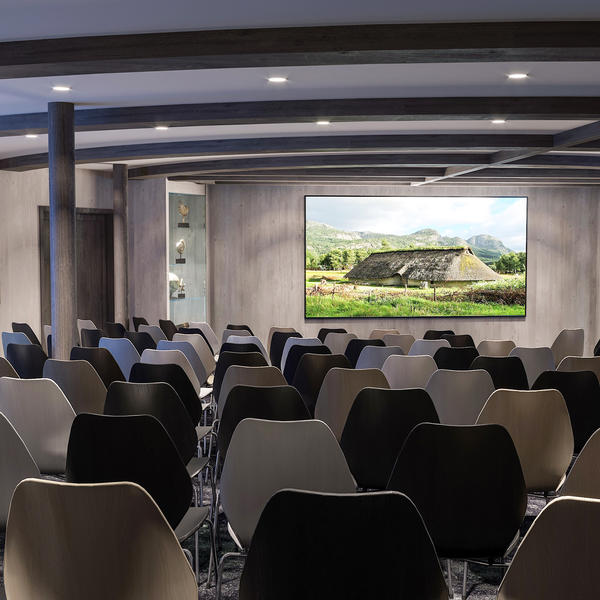 Reasons to book
Discover our island heritage
You'll explore Britain's magical coastline from south to north from the Isles of Scilly to Islay, from the Isle of Man to Lewis and Rathlin
Fowey with Zoe Bromley-Fox
Enjoy a special excursion to Fowey taking in Du Maurier country, Lostwithiel, Restormel castle, a gin distillery, and lunch
No-fly cruising
You'll be able to avoid the hassle and stress of flying on this full-board, no-fly cruise, which starts and ends in Dover
Amazing included excursions
You will enjoy a range of excursions throughout your Hurtigruten cruise from culture and cuisine to history and the natural world
A greener way to sail
The newly-refurbished MS Maud offers great food, real expertise, and the chance to sail on one of the most eco-friendly cruise ships around
Superb food and facilities
MS Maud offer maximum comfort, with newly-designed cabins, wonderful food, insightful lectures and amazing excursions
Your expert guides
Zoe Bromley-Fox
Former VTA land product manager and co-founder of Cornwall Discovered
Price includes
15-day round-trip cruise from Dover to the Hebrides and back on the newly-refurbished MS Maud in a cabin category of your choice
Visits to towns and villages in England, Wales, Northern Ireland, Isle of Man, Republic of Ireland, Scotland and the Hebrides
Breakfast, lunch and dinner, including house wine, beer, sodas and mineral water
Activities on board and ashore, including escorted landings with small expedition boats

Range of included excursions

Exclusive guided excursion in Fowey led by Zoe Bromley-Fox and a Blue Badge guide

Complimentary WiFi, tea & Coffee and reusable water bottle

Loan of boots, trekking poles and all equipment for activities

Complimentary wind- and water-resistant expedition jacket
Availability
From
Sun, Sun, Aug 1, 2021
To
Sun, Sun, Aug 15, 2021
* Price based on two people sharing an inside cabin. Subject to availability. Deposit 20% and non-refundable. **Balance is due 90 days before your scheduled departure date. Fowey excursion is operated by Cornwall Discovered. Cruise 100% protected by ATOL (3584) and ABTA (V7545). Cancellation T&Cs available at hurtigruten.co.uk/practical-information/terms-and-conditions.
Itinerary
Depart from Dover

Dover, United Kingdom

This expedition cruise begins as we set sail from Dover and make our way along the south coast of
England. Before joining your ship today, perhaps take time to explore the coastal town of Dover with the magnificent, medieval Castle. As we head out to sea, passing the famous White Cliffs of Dover, stretch your sea legs and get to know the MS Maud. Find the amenities you like best - the Science Centre, the Explorer Lounge, or maybe your favourite spot out on deck.

At sea

English Channel, United Kingdom

Enjoy an idyllic day at sea with plenty to do. Meet our Expedition Team, who prepare you for exciting adventures ahead. Listen in on talks by these experienced explorers who share their extensive knowledge, or maybe you just want to kick back and relax. Admire the views, try some of the ship's cuisine that caught your eye on the menu, or settle into a good book while enjoying this day at sea.

Fishguard

Fishguard, United Kingdom

This small, typical fishing village, seems to have stood still in time. With its charming main street and
lush green surroundings, Fishguard lies between the Preseli Hills and the coast of Pembrokeshire.
Split in two by a steep, winding hill, the "new" town sits on a clifftop commanding spectacular views.
Steeped in history dating back as far as the 10th Century, Fishguard's past includes Viking raids and
Norse settlements, and has the dubious accolade as the site of "last invasion of Britain", by the French in 1797. The local library houses 'The Last Invasion Tapestry', a 100-foot long masterpiece which took 4 years to complete, and records the scenes of the invasion. The town offers insight into this fascinating history as well as being charming with local shops, cafes and restaurants to enjoy.

Explore the surrounding area with walks through the ancient woodlands and the nearby Gwaun Valley which flows between Fishguard and the Preseli Mountains. With its unique atmosphere, there is plenty of wildlife and prehistoric sites to explore, the valley is listed as one of the most important meltwater channels in Britain and dates from the last Ice Age. At a more sedate pace, wander the gardens of Dyffryn Fernant or Penlan Uchaf, with lovely views across the valley.

Rathlin Island, Northern Ireland

Church Bay, Rathlin Island, United Kingdom

Sitting just off the north coast, with its rugged cliffs, several lakes and vast, natural grasslands, Rathlin Island boasts Northern Ireland's largest seabird colony. At just six miles long and one mile wide, it is ideal for exploring by bike or on foot on one of the many walks in the area. Cliff-top walks are waiting, or choose from many rambling cross-island trails.

Visit the Seabird centre and lighthouse - a unique and fully operational "upside-down" lighthouse.
Here, close-up views of the seabird colonies are enjoyed, as well as spectacular panoramic coastal
views. Or stroll to Mill Bay where you can watch the frisky seals either at play or just relaxing in the
sunshine. Thousands of seabirds congregate on the island to breed from late April to July, including puffin, guillemot, kittiwake, razorbill and fulmar. Rathlin Island is also home to Northern Ireland's only pair of breeding choughs, and, more recently, calls by the secretive corncrake have been heard here for the first time in 30 years.

Located on the mainland, the World Heritage Site of the Giant's Causeway is just a short ferry ride and drive away.

Iona, Scotland

Baile Mor, Iona, United Kingdom

World famous for its religious connections, Iona was settled in 563 AD by the Irish missionary, St Colomba. The much-restored Abbey is one of Scotland's most historic and sacred sites, and still remains a place of pilgrimage and peace. Spend time exploring the Abbey and learn about its fascinating history, visit the ancient graveyard where 48 of Scotland's kings are buried, or take a short walk to the highest point on Iona offering spectacular 360-degree views. Views from Iona's beaches stretch west towards the Outer Hebrides, resulting in places bearing emotive names such as 'The Bay at the Back of the Ocean'.

Early afternoon, if conditions allow, we will spend time doing a 'scenic sail by' of the cave-riddled island of Staffa. The uninhabited island is home to the cathedral-like Fingal's Cave, immortalised by Mendelssohn's glorious 'Hebrides Overture'. The basalt columns here are a northern extension of the Giant's Causeway. Named by the Vikings from the old Norse for pillar or column, Staffa has been visited by Queen Victoria, Sir Walter Scott and Samuel Johnson, and is one of Scotland's most famous islands. Fingal's Cave is best viewed from the sea where the colour of the waters within the cave and its rising columns are at their most impressive.

St Kilda, Scotland

St Kilda, United Kingdom

Any visit to this distant and wild archipelago, with its breathtaking sea cliffs, is totally weather-dependent. As a UNESCO double World Heritage Site and the 'jewel in the crown' of the National Trust for Scotland, it is an unforgettable experience. The outlying stacs and islands, which are the remains of a volcanic crater, provide ledges for thousands of nesting seabirds and Minke whales are frequently seen around the swirling waters of the archipelago. Once home to Britain's most remote island community, it was evacuated in 1930 at their own request after 5,000 years of continuous habitation. The tiny museum that remains is a record of how hard life was on this exposed island. Spend time ashore exploring this remote, uninhabited island and take in the magnificent rugged scenery.

Lewis

Bernera (Lewis), United Kingdom

Originally a Viking settlement, Stornoway is the main town of the Western Isles and the capital of the Isle of Lewis, which is the largest and most northerly of the Outer Hebrides. A bustling harbour and waterfront with museums and art galleries are overlooked by the handsome Lews Castle which we invite you to explore with us.

Further afield are mills and cottages where hard-wearing Harris Tweed is woven. There are tiny folk museums, the world-famous Callanish Standing Stones, described as Scotland's Stonehenge from around 3000BC, and the mysterious Carloway Broch - the best preserved fort in Scotland dating back more than 2,000 years.

Fort William

Fort William, United Kingdom

We enjoy a scenic sailing into the spectacular Loch Linnhe with mountains, islets, estuaries and lochs creating the ideal backdrop.

Dominated by the view of Ben Nevis, Fort William is our base for exploring this magnificent area. There are plenty of local points of interest worth a visit - whether it's the excellent West Highland Museum in the centre of the town, St Andrew's Church, St Mary's Catholic Church, or the Old Fort. Nearby attractions include the town is Glenfinnan - best known for the stunning railway viaduct which featured in a Harry Potter movie, the 60-mile-long Caledonian Canal, Glencoe - one of Scotland's most spectacular places, and further afield is the Urquhart Castle - one of Scotland's largest castles on the shores of Loch Ness.

Glen Nevis is also a short drive away where you can enjoy one of the best short walks in Scotland, through the dramatic and beautiful Nevis Gorge and the awesome Steall Falls. Or if you fancy a "wee dram" there's the Ben Nevis Distillery located at the foot of the mountain.

Islay

Islay, United Kingdom

Pronounced "EYE-la", Islay was once the seat of the MacDonalds, Lords of the Isles. This is 'whisky island', world famous for its peaty single-malt whiskies and its many local distilleries is one of the largest Hebridean islands.

Offering a diverse landscape, together with ancient Celtic ruins, Islay is a stop-off for migrating birds, making it ideal for seabird spotting along its many superb cliff-top walks. In the charming little town of Bowmore, there are a handful of small shops, a round church housing no corners, and some say the locals are the friendliest in Britain.

Isle of Man

Douglas, Isle of Man

With a rural landscape and rugged coastline, the Isle of Man became a designated Biosphere Reserve in recognition of its marine and coastal ecosystems. With more than 100 miles of stunning coastline and rugged cliffs, the island has a spectacular landscape of rolling hills, moorland and heath, waterfalls, pebble-dash beaches and coastal paths - an ideal destination for exploring.

Our location in Douglas enables us to explore the island which has a strong Celtic and Viking heritage. There are Viking museums to visit, or board a historic steam train, or discover the castles of the island, or just enjoy strolling through the town and local surrounds at your leisure. Nearby Douglas Head is a rocky outcrop overlooking Douglas harbour, which has some of the best views on the Isle of Man. Pass through the ornate gate, visit the unique Grand Union Camera Obscura and continue on to the Douglas Head Lighthouse, built in 1857.

Visit the delightful harbour community of Peel with the impressive Peel Castle, originally constructed by the Viking King of Mann, and dating back to the 11th Century as the original place of worship and stronghold. On previous calls to the Isle of Man, we have joined the local community and taken part in a beach clean-up as well as engaging in a tree-planting ceremony along with the Department of Forestry who have identified a site where they intend planting 84,000 trees as a national forest.

Waterford

Waterford, United Kingdom

The oldest city in Ireland, founded by the Vikings in at the start of the 10 th century, Waterford and its surrounding areas is a short drive away and make this the ideal destination to visit. With its strong Norse roots, explore the Viking Triangle, so named for the 1,000 year old Viking walls once surrounding the area and is an integral part of the cultural and heritage of Waterford City.

Steeped in history and set amongst beautiful Irish countryside, the region is renowned for its excellent archaeological treasures, parts of the ancient walled core still remaining as well as Norman forts and majestic, medieval abbey ruins and ancient monasteries. Visit the nearby 12th century Kilkenny Castle, one of the earliest Norman stone castles, stroll through quaint villages and charming hamlet towns nearby or take in the beautiful scenery with a cycle along the along the Waterford Greenway.

Isles of Scilly

Isles of Scilly, United Kingdom

This enchanting archipelago off the coast of Cornwall is home to outstandingly beautiful, uncrowded and unspoilt islands and around 140 islets. Covered in heathland, with magnificent sandy beaches, these islands are surrounded by rocks and reefs and offer picturesque coastal walks.

Ideal for exploring on foot, the small town of Tresco is home to the world famous Tresco Abbey Garden with its 20,000 plants from 80 different countries. You can also explore the castle ruins, the Valhalla Museum or stroll along the tropical-like white beaches. Should conditions allow, we aim to do a beach clean-up on this charming island.

We will split our time in the area and you may also choose to visit St. Mary's - the largest of the islands - with its rocky coves, archaeological sites and charming Hugh Town. Explore the town and sample some of the freshly caught seafood whilst enjoying the delightful views of the island. Alternatively, join one of our optional excursions for a trip around the islands, visiting shipwreck sites, spotting seals basking on the rocks and cruising around the bird sanctuary of Annet to observe the puffins and numerous other breeding seabirds.

Fowey

Fowey, United Kingdom

Join Zoe Bromley-Fox for a special day, organised by Cornwall Discovered, exploring the cultural wonders of the Fowey estuary, combining fact with fiction, history with myth. After a scenic drive tracing Daphne Du Maurier, we will make our way to the former Capital of Cornwall, Lostwithiel, located at the head of the Fowey estuary. Famed for its quaint streets, this ancient stannary town now forms an antique collector's paradise, with many antique shops hidden within the small alleyways.

Heading to Restormel Castle we will then explore one of the most astonishing castles of Britain which affords the visitor breath-taking views across the Fowey valley. The present circular structure, built in the late 13th century, was a luxurious retreat for its medieval owners and was twice visited by Edward, the Black Prince.

After a morning discovering, we will visit an up-and-coming Cornish gin distillery and enjoy a Cornish lunch, before heading back to the port of Fowey for some free time to explore before an exclusive VTA drinks reception aboard the ship.

Portland

Portland Harbour, United Kingdom

Located at the centre of the UNESCO World Heritage Jurassic Coast, an area renowned for its natural beauty and historical heritage, Portland is a destination bursting with intrigue and history. With quiet coves, disused quarries, a rich and fascinating history with some of the best views in Britain as well as being a haven for wildlife.

A tied island, the Isle of Portland is situated on the southernmost point of the county of Dorset. A barrier beach called Chesil Beach joins Portland to the mainland and the resort town of Weymouth. With nearly 300 species of bird, over 30 species of butterfly and 720 species of moth, Chesil Beach and the Fleet lagoon are of international conservation importance. As a significant migrating point for birds, Portland provides bird watching enthusiasts with the prospect of glancing rare species.

Disembark in Dover

Dover, United Kingdom

We pass the white cliffs of Dover during the early morning hours and dock at the city's harbour. After breakfast, it's time to leave your home for the past 13 days.
MS Maud
Overview
MS Maud is designed to take you on a cruise in maximum comfort, with newly designed cabins, wonderful food, insightful lectures, amazing excursions programme - and thanks to its biofuel technology, it is a more sustainable way to travel.
Style & Character
The interior of the ship features natural Scandinavian materials like granite, oak, birch and wool, to create a relaxed and stylish atmosphere. On deck 5, you can visit our Science Center, which is packed with state-of-the-art technology and interactive learning tools.
On deck 9, you can enjoy the spectacular views from the outdoor Observation deck, workout in the outdoor gym and soak in one of the hot tubs. And there´s no better way to enjoy the view than with a refreshment in the Explorer lounge & bar.
Services
Norway´s stunning scenery is reflected in the ship´s interior design, while its facilties are equally impressive.
Science Centre
Laundry
Gym
Hot tubs
Library
Observation lounge
Outdoor decks
Restaurant and cuisine
Room service
Shop
Artworks
Entertainment
Equipment rentals
Expedition Team
Lectures
Resident photographers
Wifi (browsing only)
Potable water
Rooms
Comfortable cabins and suites feature natural Scandinavian materials, such as granite, oak, birch and wool.
Expedition Suites (20-45m2 / Deck 6-8): 4 categories ranging from mini suites to owners' suite, these luxurious, spacious cabins include TV, seating area, balcony (not mini suite) coffee making facilities and minibar.
Arctic Superior (10-17m2 / Upper and Middle Decks) all have bathrooms with shower, WC, TV and kettle and double/twin beds
Polar outside (10-12m2 / Middle & Lower Decks) All have bathrooms with shower/WC/Kettle & TV and double/twin beds
Polar inside (9-15m2) / Decks 4,6,7) All have bathrooms with shower/WC/Kettle & TV and double/twin beds
Food & Drink
Welcome onboard to a culinary journey and our award-winning food sourcing program - Norway's Coastal Kitchen.
You will find ingredients from our local suppliers along the coast in all three restaurants. Restaurant Aune - our main dining room; Fredheim - with casual fast food and plant based alternatives; and our fine dining restaurant Lindstrøm, named after Polar Hero and Amundsen Chef Adolf Lindstrøm. Take a deep breath, relax and enjoy.
Brought to you by
TS Tours as agent for Hurtigruten
This tour is operated solely by TS Tours
TS Tours is acting as agent for Hurtigruten. Tour is operated by and subject to the booking conditions of Hurtigruten.
Founded in 1893, Hurtigruten are the world's leading experts in cruises along the Norwegian fjords. Hurtigruten is ABTA-bonded and all trips are ATOL-protected.
TS Tours Ltd specialises in creating bespoke tours, cruises and rail journeys in the company of experts. Its exclusive trips combine unique experiences as well as access to inspirational people. All trips are ATOL-protected and financially bonded.
For information about TS Tours, click here.
For Hurtigruten's terms and conditions, see here.
To view TS Tours as agent for Hurtigruten's supplier's terms and conditions click here.
This tour is protected by the following:
Availability
From
Sun, Sun, Aug 1, 2021
To
Sun, Sun, Aug 15, 2021
* Price based on two people sharing an inside cabin. Subject to availability. Deposit 20% and non-refundable. **Balance is due 90 days before your scheduled departure date. Fowey excursion is operated by Cornwall Discovered. Cruise 100% protected by ATOL (3584) and ABTA (V7545). Cancellation T&Cs available at hurtigruten.co.uk/practical-information/terms-and-conditions.